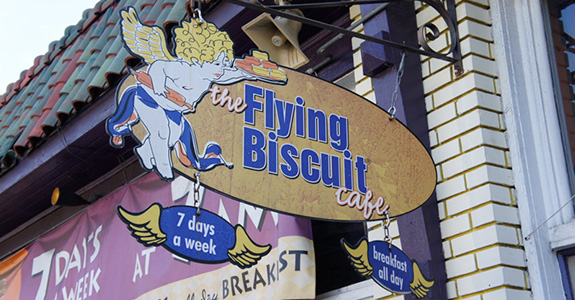 You just can't get the essence of the south without having an authentic southern breakfast-biscuits, grits, hot cakes, bacon and sausage you know...the works and I desperately wanted us all to experience it. A real southern breakfast with all the bacon fat and lard is a heart attack on a plate. As a family we watch what we eat and because we are Jewish we don't eat pork so I did some research to find a "healthy version" of an authentic southern breakfast and I came up with The Flying Biscuit Cafe.
The Flying Biscuit Cafe fit what we were looking for to a T and then some. What I didn't know is that this place has a cult following and gets super busy. We went to the original location on McClendon Ave in Candler Park (Candler of Coca Cola fame!). It has a distinct hippie vibe crossed with grandma's southern kitchen. We had to wait a bit to get our table but it was absolutely totally worth it. The menu is chock full of southern favorites and some with a distinct new age twist (like the addition of tofu in some dishes and organic oatmeal pancakes for starters). The Flying Biscuit Cafe serves breakfast all day besides the rest of the menu so you can always get your fix.
The kids got the hot cakes and french toast which were outstanding. I ordered the eggs with turkey bacon and cheese grits. I love grits and let all my kids try them as they'd never had them before. Joel and Lilia were hooked! The turkey bacon was crisp and delicious and the eggs were scrambled perfectly. Nothing skimpy about the portions here, in fact no one could finish their plates and we walked in hungry! But the best part of breakfast here are part of the restaurants namesake. The biscuits are beyond heavenly. Flaky and delicious and soul satisfying in a way words cannot describe! With butter, jam, or just plain they are simply spectacular. Sometimes you try something new, and it's better than you could have ever imagined. The Flying Biscuit Cafe was a grand slam home run. Everyone left with a new appreciation of southern cooking and some new food experiences and "likes" to add to their food repertoire. I love that! That's what exploring is all about. To this day we reminisce about those fabulous biscuits. I bought their cookbook and shortly I'll give the recipe a whirl. Stay tuned!
If you are in Atlanta, DO NOT MISS this fantastic culinary experience. It's one of our best breakfasts ever!