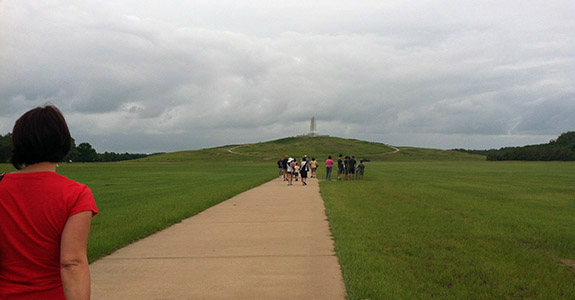 After learning all about the Wright Brothers in Dayton, Ohio, we were very excited to see where the first flight actually took place at Kitty Hawk in Kill Devil Hills which is now known as The Wright Brothers National Monument at Kitty Hawk. The Wright Brothers chose this spot because of the perfect wind conditions and abundant landing areas.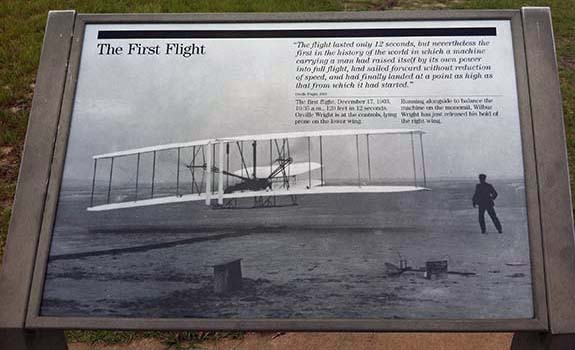 The first thing we did was explore the visitor center and seeing a scale model of the Wright Brother's airplane.  It was pretty crazy to imagine this "flying machine" as the predecessor of the jet planes we now fly in today.  It's long and flimsy and it's hard to imagine that this thing could fly, but it surely did, and changed history forever.  After examining the displays, reconnecting with Orville and Wilbur and learning about the mechanics of what made the flight possible we headed outside.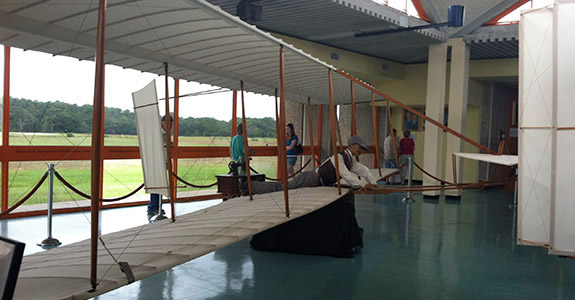 Walking along the trail we found the marker where the Wright Brother's flying machine first took flight and became airborne on December 17, 1903.  It was truly amazing to feel the energy of this place, to channel the brothers excitement and wonder at the liftoff of their invention.  We walked along all the way to point where they landed 120  further.  Their flight had lasted 12 seconds at a speed of 6.8 miles per hour and was recored in a famous photograph.
We then toured a small structure that is a replica of the space Orville and Wilbur used to camp in and used as their workshop.  This was not only where they ate and slept, but also where they recorded their information, tracked wind speeds and made adjustments to their invention that would result in the first flight.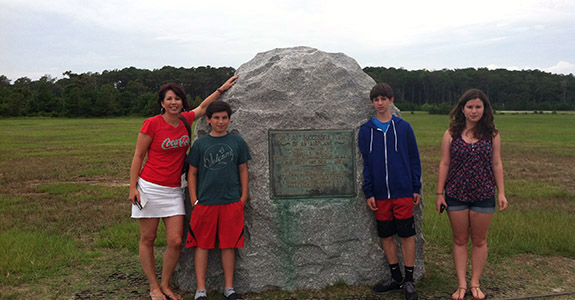 Afterwards we  hiked up to the top of the hill to view the monument and the flight area from up above.  I honestly felt the Wright Brother's spirit I stared out at the horizon and had to pinch myself for standing there where it happened. How far have we come since that first momentous flight! I doubt the Wright Brothers could have ever imagined what their invention would inspire in the future. Wow!
These are the moments that I get so excited about when I travel.  Standing in places where things have happened that changed history and the world.  I can only hope that my kids felt as excited as I did.  To stand here is to discover the sprit of invention, the passion and curiosity, and the can do attitude that makes America great.  This is beyond a DO NOT MISS!!!