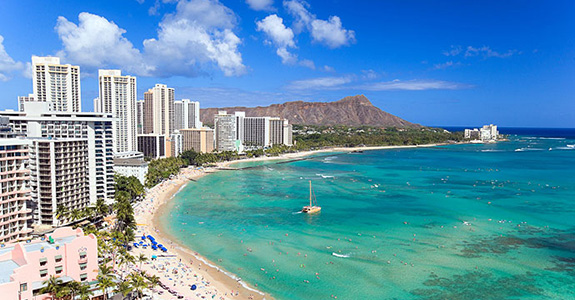 Any visit to the island of Oahu would not be complete without a stop at the very famous Waikiki beach.  The beach itself is very pretty surrounded by luxury hotels and restaurants and is the place to be.  It's jam packed with sunbathers, swimmers, surfers and boogie boarders and it is a scene. After staying on the other major islands and taking in their glorious unspoiled beauty, we decided to stay at the Hilton Hawaiian Village at the end of Waikiki Beach.  It is a gorgeous property and very expensive and the only reason we stayed here, is because I saved all my Hilton Honors points and cashed in.
As much as the property was beautiful it's exactly what I wasn't looking for on my road trip.  You want to sit by the pool? Better have your towel or bag on a chair by 6am.  You want to eat breakfast, that will be $8 for a cup of coffee.  Cereal and pastries was going to cost us about $70 for our group and there was no way I was going to pay that.  It was crowded and at times felt like a 3 ring circus. But we stayed here for one reason alone, and that is because Waikiki is the most famous beach in all of Hawaii.
The beach itself is pretty but it doesn't compare to Hanalei Bay on Kauai or Kaanapali on Maui.  What I did want to channel here though was Waikiki in it's heyday when Duke Kahanamoku reigned supreme as Hawaiian's golden boy surfer king later winning Olympic gold representing the United States in swimming. The Waikiki of old has been developed and turned into a traffic choked bustling area filled with tourists, but if you can find a quiet spot to set down your beach towel, you can feel that Waikiki exotic allure still hanging in the air.
As we set down our towels amidst the throngs, we watched the surfers ride the rolling waves.  As the boys ran to play in the surf, I lay back feeling the warm sun on my skin inhaling the wonderful coconut and cocoa butter smell wafting in the air and closed my eyes and imagined the paradise of old.  Though much has changed here, I felt it was really important to spend some time on the most iconic beach in Hawaii, to pay our respects in a sense, to the historic beach that will forever be the first one that people think about when they think about Hawaii.