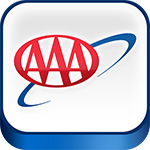 Let me just state for the record that I have not been paid any endorsement fee, and this is not and advertisement for AAA. My only relationship with the Auto Club has been as a paid member for slightly over 30 years (that's right folks since I was driving at age 16). Because my family and I have derived enormous benefit from our membership, I thought it was super important to highlight it on my blog in my planning tips.
There are very few things in life that give you as much bang for your buck than a membership with AAA. Here are the reasons I have maintained my membership over 3 decades and recommend that you join if haven't already.
Roadside Assistance
I can't even begin to tell you what a relief it is knowing that wherever I am, I am never alone in case of an emergency. All it takes is one phone call and a tow truck is on it's way to get me out of whatever crazy situation I've gotten myself into like locking the keys in the car-which I am ashamed to admit I've done numerous times, run down my battery listening to the radio or left the car lights on (this one I can blame on the kids clicking the button for the ceiling light in the car-ok, ok, I've done it too). They've changed a flat tire and even towed me to the nearest service station to get me off the road when I had an accident. Thankfully, I've never run out of gas, but they'll help you with that too. As a traveler on unfamiliar roads there's real peace of mind knowing AAA is with you wherever you are and is only a phone call away. If you are an RVer you can even get a special RV membership too.
Amazing discounts
Having a AAA card is by far the best discount card there is. I am positive all the money I've saved has more than paid for my membership at least 10 times over. Flashing your AAA card will typically save you about 10% on hotels, but if you're super savvy, make sure you ask at restaurants and activities-especially amusement parks and museums, even retail stores to find out if they offer a AAA discount. You will be surprised how much you will save. You can check their website but always ask wherever you go. My kids know, my motto is "It never hurts to ask".
Free Travel Guide Books
Did you know that AAA has some of the best travel guide books around and if you are a member they are absolutely free! I just waltzed into my local AAA office last week, flashed my card and picked up my guidebooks for New York, New Jersey, and Pennsylvania-no charge at all. The guidebooks are chock full of great recommendations and list out everything by city giving information on attractions, dining, and lodging. It's also another great way to find some great discounts on wherever your travels take you. Oh and when you sign up, you'll get a subscription to their wonderful magazine which also has fantastic local travel ideas that are near where you live.
I can't say enough good things about the Auto Club. I am sure there are tons more benefits that I am not even aware of. If you are not already a member, do yourself a huge favor and sign up, that way they'll be there when you need them and you'll get to take advantage of some great discounts that will pay for your membership in no time. It's a can't lose deal!