How to preserve and display your family travels to keep memories alive, spark conversations and give everyone in the family a chance to brag (just a little)
In as much as I've tried to create a family history by traveling to all 50 states, it's really hard to keep those memories alive as they must compete with the day to day chaos that makes up our lives.  I felt it was really important for my children to connect to those precious memories on a daily basis reinforcing those happy times we've spent together.  In my home there are several places my kids can connect, and surprisingly these areas in the house have become an enormous sense of pride and accomplishment especially when friends come to visit.  I can't even begin to tell you the joy I get listening to my children tell their stories about what they saw and share what they've learned, especially hearing what was meaningful to them.
Here are some of the ways we've incorporated our travels into our daily lives in our home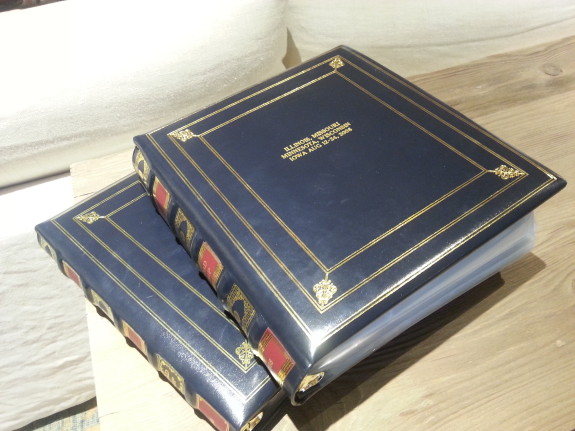 1. Photo Albums
In the past this was a no-brainer but it's really funny how this is now starting to feel so outdated with everyone having their photos on their phone, ipad, or computer.  For some reason I still feel compelled to put a hard copy of my pictures into a bound album.  We've got quite the collection of albums stacked on the shelves and they look really great.  Just the sheer volume gives us all a real sense of accomplishment and having them around gives everyone easy access if they need to dial in to something specific.  You can get albums anywhere, we really like the albums at Exposures.  They have a great selection and special archival plastic pages to keep photos well preserved.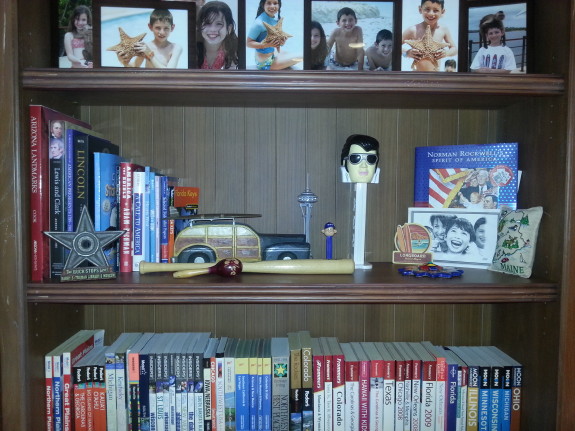 2. Souvenir displays
We've got some bookcases in our family room and made a little display of some of our crazy souvenirs that we've collected over the course of our travels mixed in with pictures and travel books.  From a giant Elvis Pez dispenser to lava from a volcano in Hawaii, to a preserved blue crab from the outer banks of North Carolina, it's quite a varied collection.  I occasionally catch the kids in front of the bookcase checking everything out which sparks a conversation and lots of "remember when's". Invariably the conversation ends with a good laugh about some mishap on the road that we all shared together.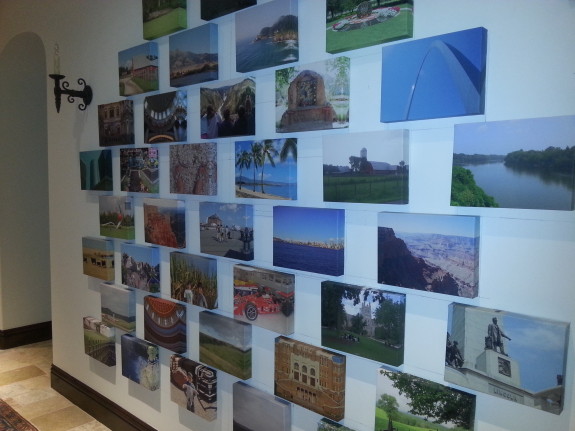 3. Photo Wall
This has gotten so much attention in my home and it's the one thing that no one forgets when they come to visit.  During each trip we take a ton of photos and try to take one photo that epitomizes each state.  At home we've created a display of 50 pictures.  In my last house the display was in the stairwell with the words "From Sea To Shining Sea" emblazoned on the top.  In my new home since we don't have a tall stairwell, we've decided to print the pictures on canvases and display them on the wall in a hallway. Either way my kids and I see them every day and are reminded of our adventures.  It's pretty funny how often I find myself staring at the photos remembering where we've been and what we've done.  This colorful wall of photos is pretty hard to miss and when friends come to visit they love checking it out and ask tons of questions about our travels.  Nothing gives me a bigger warm fuzzy feeling than listening to my kids tell their stories to their friends.  This is something they are amazingly proud of and I hear it in their voices.  Kids are not always vocal and as a parent you wonder how much they are soaking up and how much they really appreciate, but when you hear them acknowledge to their friends how lucky they are and watch them tell their stories with a big smile you know that nothings been lost on them and that the time and money you've spent have created something that is priceless.
I hope you are inspired to find ways to display your travels at home.  They are a great reminder of happy times, a means of reconnecting to each other, and a way to hear your kids beam with pride about all they've seen making you feel great about all you've given them, a family history that will last a lifetime.
Sign up for our weekly newsletter for more travel tips, insights and ideas—everything you need to know to plan, pack and go!