I "met" Dee online when she wrote to let me know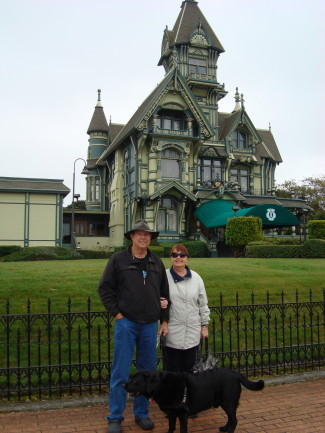 I'd left off her favorite ice cream, the benchmark against which she measures all others-Graetors in Cincinnati.  Boy am I sorry we missed it when we visited the Buckeye state on trip # 11. I found out that Dee and her husband Jerry are lucky enough to live every travelers dream. As retirees based in Santa Barbara California they are avid RV'ers, happily wandering wherever and whenever their heart chooses to go.
They purchased their "rig" 3 years ago and have been making time for adventures ever since. They are currently on a 6 month cross country tour visiting friends and family (they have 9 children between them and just welcomed their 13th grandchild) along the way. In fact, they met their newest granddaughter this past weekend in Cincinnati. Next they are headed to Charlotte North Carolina where they plan to spend 10 days visiting another new grand baby. From there, it's up the east coast into Canada, where they will visit Nova Scotia, Montreal and Quebec before returning to the lower 48. They don't have a definite plan after they leave Charlotte and that's part of the fun-No agenda, just the thrill of discovery. Before returning home in Sept or Oct, they hope to visit 25 to 30 states or more-wow! They are big on keeping track of everywhere they've been "we have a US map on our rig to which we add state stickers every time we enter a new state" says Dee.
Dee and Jerry have traveled extensively in Europe and now that they are retired they have the time throughout the US. According to Dee, they love traveling in a motorhome because they only have to pack once and their 8 yr. old black lab Silas can go with them. They also save money by cooking their own meals.  If you are considering an RV vacation Dee has some other great reasons to get out on the road.  "People who travel in motorhomes are fun people. They are inquisitive and always friendly. RVers are quick to offer information about places to visit. At an RV park near Leavenworth, WA, we came across a group of thirty Alpha trailer owners. After visiting the Oktoberfest in Leavenworth they had a pumpkin carving contest to honor Halloween. They invited us to judge the carvings. They were a fun group." Based on my one RV adventure, I would have to agree. Everyone we met was very friendly and eager to help us "greenhorns" when we couldn't figure stuff out.
Some of the joys unique to RV travel are finding the most amazing sites in the most unexpected places. While driving through Washington state, Dee and Jerry booked an RV Park along the Columbia River right on the Washington/Oregon border. Dee and Jerry discovered that the nearby town of Maryhill had population of 96 - which might lead you to think there was much going on there ... wrong! They found a spectacular Art Museum and a replica of Stonehenge. The founder of the town, Sam Hill, began building a huge French Chateau overlooking the Columbia River. He never lived in it. Instead, he was convinced to turn it into an Art Museum. His friend, the Queen of Romania was at the dedication. Sam Hill also built a replica of Stonehenge as a memorial to WWI veterans.
As they travel they also love to sample the local specialties such as wine, beer, ice cream, foods that they don't find at home. They have also found that traveling in an RV is much more relaxing. According to Dee "We tend to drive no more than 4 hours a day and spend at least two nights in an area - longer if we find more sites to see. We have extended our stays because of weather. It is lots more fun to be stuck in an RV during bad weather than in a hotel room. We travel with puzzles, books and cards. We don't feel cramped in our rig."
When I read Dee's email recounting her experiences with Jerry and Silas in their RV, I could feel how happy they are. I can also tell that they are pretty special people by how they choose to spend their time. They spent 3 months volunteering at the Visitors Center in the Redwoods in northern CA and 3 months at a local beach in Santa Barbara as Park Hosts. Dee tells me "Both positions provided a pad for our motorhome with full hook ups for working 20 hours a week. When we lived in the Redwoods we spent our off hours touring around the area and hiking in all the Redwood Groves - a wonderful experience". It sounds to me like Dee and Jerry have found the holy grail of happiness, having the freedom to travel where you want, when you want, spending time with the people you love, doing what brings you joy and giving back.