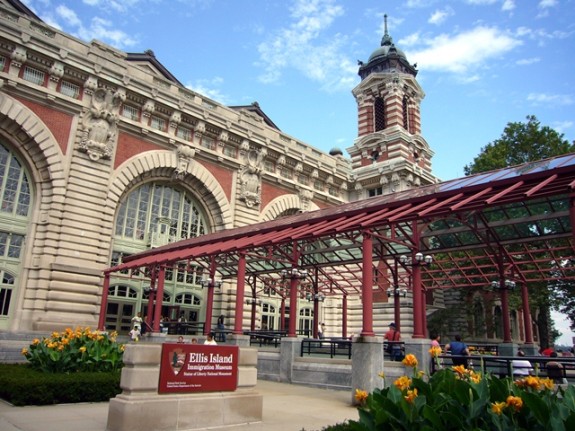 There were many things I was excited to learn more about on our road trip to New York, New Jersey, and Pennsylvania, but by far the one of the things I was most looking forward to was a visit to Ellis Island. So many of us from immigrant stock (myself included) can trace our ancestors first stop here on their way to their new life in America. Although no longer in use as an immigrant processing facility a total of 12 million immigrants passed through here between 1900 and 1954. Today, over 100 million Americans—about one-third of the population—can trace their ancestry to the immigrants who first arrived in America at Ellis Island before dispersing to points all over the country. Ellis Island is now part of the National Park Service (click here to view the website)
As we exited our boat (just as our ancestors might have but after a much shorter journey) we entered into the great hall imagining what those new immigrants were seeing and feeling. Folks spent an average of 5 hours here and were asked 29 questions and given a medical exam. It was important to for immigrants to show they had a little money and a job or family waiting for them so that they would not become a burden to society. Those with curable medical problems were hospitalized on the island until they had recuperated but 2% of new arrivals were sent back due to infectious disease, insanity or criminal records. Sadly today the immigration process takes years with some arrivals waiting in detention centers that resemble prisons.
On the self guided tour the building we learned about the different questions immigrants were asked, how the medical exams were conducted and how records were kept of those who passed through Ellis Island. My great grand parents on my mother's side came through Ellis Island and later made their way to Chicago. I can only imagine how tired, hungry, scared but still very excited they felt on the cusp of their new life in America.
Ellis Island did suffer some damage during recent heavy winter storms and so many of the original artifacts had been removed on our visit.  Hopefully now they have been restored and put back on view.  What I loved most though was the large photographs depicting many immigrants on their journey to a new life filled with hopes, and dreams and a better future for their families. What is reflected in those shining faces is the spirit of what America is all about-Freedom. Ellis Island is a Do Not Miss stop on any road trip to New York or New Jersey since it played such an important role in the building of our nation into what it is today. And don't miss the awesome gift shop where you can find some amazing souvenirs and even some squish pennies.