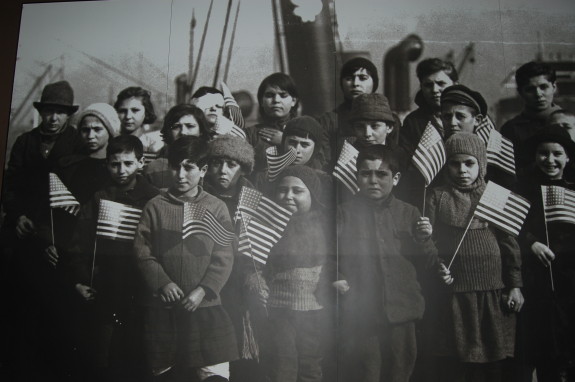 Immigration has been in the news quite a bit lately, from the plight of mothers and children held at detention centers, to the deportation or lack thereof of illegal immigrants who commit crimes, immigration is the hot topic du jour. Candidates for president are bringing this issue to the forefront and it really made me reflect on what I saw on our last trip (trip #16) when we visited Ellis Island-the now closed center that processed so many immigrants on their way to live their dreams of a better life in America.
I think first it's important to note that we are all of immigrant stock and we are a nation of immigrants from every part of the globe. It's also important to note that as a nation we can't deny that we need immigrants. Immigrants come to this country with a dream to provide a better life for their families and in so doing are willing to go to great lengths often doing jobs that most of us would never do.  On our last trip, visiting the New York Transit Museum in Brooklyn, we learned that the subway tunnels were dug by Italian immigrants-often risking life and limb so their children could have a better life. Much of our railroad tracks were laid by immigrants, and the Erie Canal was dug by immigrants. Today immigrants continue to do back breaking work picking our fruits and vegetables in the fields and work as meat cutters at large processing centers among other tiring and dangerous jobs. And the truth is, without them our country would not function.
Sadly today, when I pick up the newspaper, all too often I read about the horrific conditions of detention centers where those who cross illegally are held awaiting some sort of trial to assess their situation where they wait for months sometimes years. Even those who try to enter the country through the proper channels have a terrible time moving through all the red tape and endless waiting. It is a terribly inefficient system and all I could think about after my visit to Ellis Island is how is it that we have gone so far backward?
At Ellis Island, immigrants were processed quickly. They had to produce legitimate papers showing that had family or someone who would sponsor them.  They had to show they had some money and a job waiting for them and most importantly that they would not be a burden on society. They had a health check and if all went well they were soon on their way. Those who were sick, were treated until they were well enough to leave. So many people came through Ellis Island to go on to be proud and hard working Americans.  I think that is what most immigrants hope for, a chance to work hard to provide a better life from where they came from. But something has changed from then until now. America still needs it's immigrants, but it no longer values them and that is a huge problem-and that is why we are where we are today.
It's time we stop moaning about these problems and insist on better policy-one that streamlines the immigration process. First we must address how many immigrants can be processed on an annual basis with obvious exceptions for dire asylum cases and limit it to that.  The harder it is and the more complicated the process the more likely folks will sneak across the border and remain undocumented.  The longer folks sit in detention centers, the more likely they are to commit criminal offenses. Let's remember that immigrants just like those who arrived and were processed at Ellis Island are coming seeking a better life, not one that entails collecting welfare checks but one that allows them to work hard for honest pay, contribute to the economy and give their children a better life. We need them just as much today as we did back then and the sooner as a nation we realize that the better off we'll be.