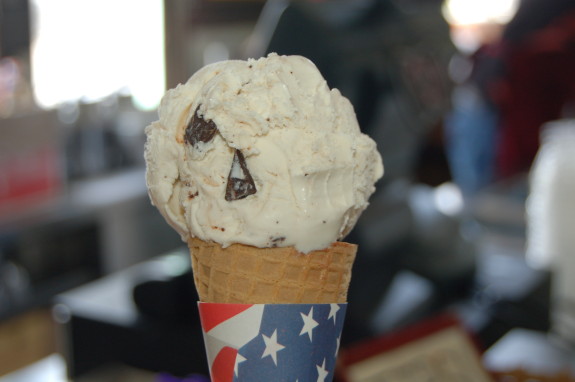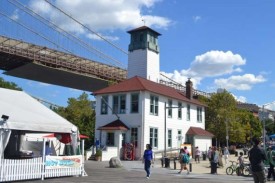 We weren't sure what to expect when we walked up to the Brooklyn Ice Cream Factory under the Brooklyn Bridge.  All our guidebooks told us to check it out but Larry our friend from Brooklyn had never heard of it.  If you know us by now, you know we will never pass on ice cream so in we went and man, are we glad we did.
First off the little shop is adorable, located in an old firehouse it's filled with little bits of Americana. Now if you are looking for artisanal ice cream with a gazillion kooky flavors this isn't your place.  In fact when we walked in I was a little let down by the slim selection of basic flavors...but don't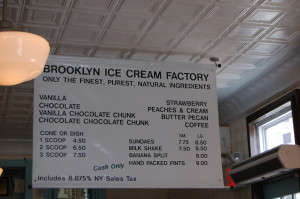 let that deter you. This ice cream rocks! Now this ice cream isn't organic, but they do boast using the finest, purest, natural ingredients. I ordered up a single scoop of their chocolate chip and bit into ice cream nirvana....So good I had to add it to our top ten ice cream list as soon as I got home.
The ice cream had that perfect combination of coldness and hardness...for some unknown reason I like to call it "the perfect bite". The flavor was clean and pure especially when set off by the perfect compliment in my book-the iconic sugar cone. There is a sign in the shop that says "Ice cream is the new health food".  I would tend to agree, something that makes you happy is sure to be good for you...in moderation of course. Everyone loved it, especially our Brooklynite Larry who was astounded he hadn't known about this place but vowed to come back often.
Once you get your cone, do what we did and stroll around outside and marvel at the bridge and read about the local history in the cast bronze plates in the concrete floor. Whatever you do, don't miss this place.  It's a real gem.