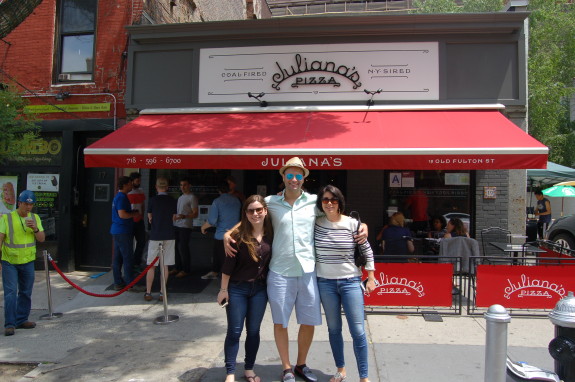 Everybody loves to know an awesome secret when it comes to food and our family is no different.  When we hit the ground running for our tour of Brooklyn with our pal Larry, Grimaldi's was on the list of must try Pizza's. Grimaldi's is famous in every guidebook for it's coal burning oven with it's flagship location right under the Brooklyn Bridge. When we told Larry we were ready for the Grimaldi's experience, he stopped us in our tracks.  "You don't want to go there" he said, "let me tell you a secret"....and then our ears perked up.
Larry then proceeded to tell us that the original creator Mr. Grimaldi of the world famous Grimaldi's pizza sold his pizza operation and the rights to the Grimaldi's name. People stand in line waiting for the famous Grimaldi's pizza day in and day out. But if you really want authentic from Mr. Patsy Grimaldi himself...head a few doors down to Juliana's. Same coal oven's, outrageous taste and no line. This is as authentic as it gets.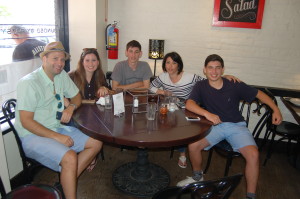 We got there just as they were opening up for lunch and sat down an ordered a basic margherita pie. You could tell this is a local's hang out.  The other tables quickly filled up with off duty firemen and local office folk.  As the smell started to waft, I could tell this was gonna be special. It took awhile as they served the fire crew first but we were none to happy to oblige. This pizza my friends is worth the wait.
Juliana's did not disappoint. This pizza is really good with a nice crispy crust and beautiful coal fired char. Milky mozzarella melted into the rosy sauce bubbling with crispy leaves of fresh basil. Ahhhh pizza heaven.....Mama Mia