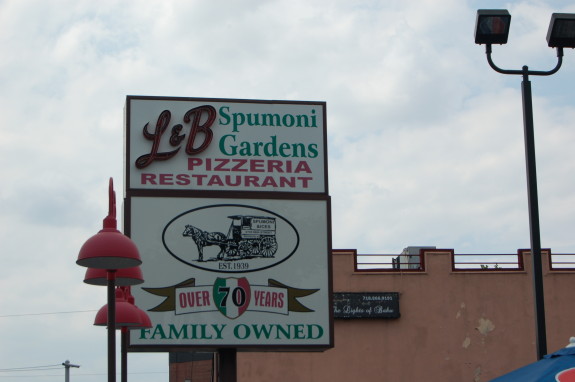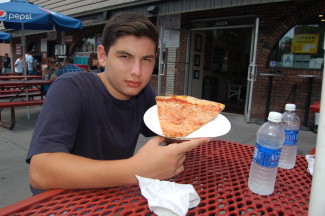 A true Brooklyn original and a local favorite, this is a pizza you just go to try. Like anywhere in Brooklyn, parking may be a bit of a challenge but don't be discouraged, it's all totally worth it. Beyond the deliciousness of the pizza and adding to the whole experience, the local ambiance is straight out of a movie. This place has been around since 1939 so they must be doing something right!
For the uninitiated, Spumoni Gardens is divided into 3 sections.  The first is a sit down restaurant which is a raucous scene-quintessential Brooklyn. Honestly, I never ate inside so I can't tell you how it is, but based on the passionate folks chowing down, I'd say it's got to be pretty good. Next up is the Spumoni counter.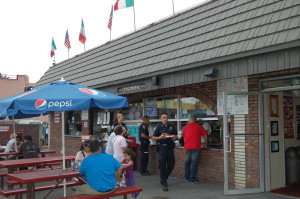 Spumoni is a type of Italian Ice cream made with layers of different colors and flavors, usually containing candied fruits and nuts. Traditionally the three flavors are Pistachio, Cherry, and Chocolate. You can get single flavors or a mix of all three and they'll even let you sample it first. The one thing it isn't though is regular Ice Cream.
Last but not least, and our favorite of all is the pizza window on the far left. You can buy a whole pie or a slice of either of their phenomenal pizzas. Go for the traditional pie if you want to taste New York thin pizza perfection.  Otherwise go for their specialty, the thick Sicilian style.  Baked into a large rectangle, the pillow of dough is slathered with their fabulous sauce and then lightly sprinkled with cheese.  Ask for an "edge" if you like the crispy corners.  Sprinkle with oregano or chili pepper for some extra zing if that's your thing....OMG!!!! one of our favorite pizzas of all time. DO NOT MISS if you are in Brooklyn.