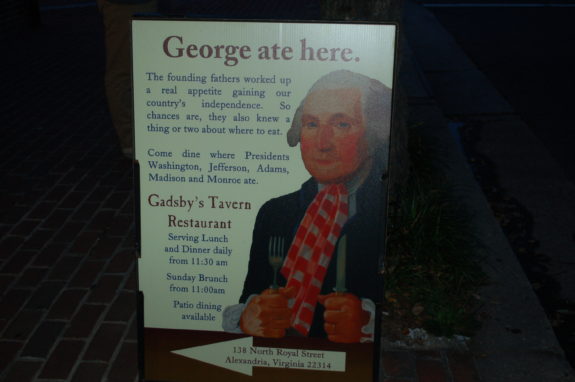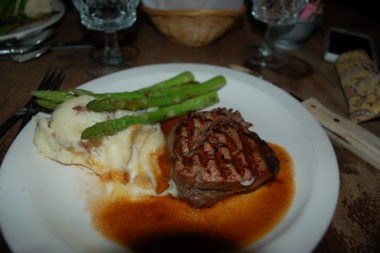 It's not every day that you get to have dinner at a place that has been in business since 1770. The chance to go back in time and dine just like former prominent customers John Adams, Thomas Jefferson, George Washington, James Madison, and the Marquis de Lafayette to name just a few was simply irresistible to me and my crew. We were a little skeptical going to a place that trades on it's historic significance so our expectations were pretty low (in spite of very good reviews) however...I must tell you, as far as the food was concerned, Gadsby's tavern did not disappoint on any level.  It was thoroughly fantastic! And if you're looking for a truly unique meal in Alexandria, it is not to be missed.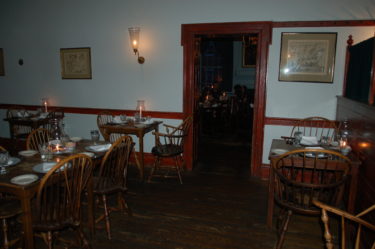 Walking into the restaurant feels like you are transported back to revolutionary times. Everything in the restaurant feels authentic although who can really say what is and what isn't.  And it doesn't matter because it just feels real. Sitting at your table with flickering hurricane lamps with real candles, you are greeted by your server who is appropriately dressed in colonial attire. As you peruse the menu, you will find simple items that reflect what diners might have eaten at the tavern in it's early days. Meats are mostly roasted with vegetables and potatoes. There are some interesting choices if you want to sample some yankee favorites such as corn pudding, crab cakes, and roast duck breast. We're sort of picky eaters and found plenty of good stuff to choose from. Steak, roast chicken, mashed potatoes. Simple pleasures are often the best and our meals were were no exception. We started our meal with a very tasty french onion soup and ended with a lovely dessert of fruit cobbler. Meals can be on the pricey side...but we felt the experience was totally worth it!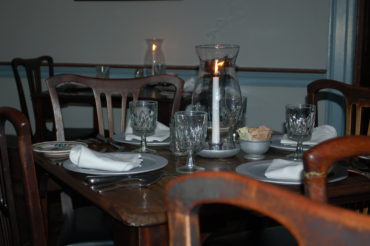 They are also open for lunch and Sunday Brunch! We found dinner at Gadsby's to be the perfect evening activity to revel in the spirit of our founding fathers having just visited Mt. Vernon, Monticello and Montpelier earlier that day. Time machines sadly don't exist, but so far Gadsby's is the closest we've come to going back in time. So as you sit at your table, do what we did and toast them all for we wouldn't be here without their wisdom and bravery and radical ideas.
Gadsby's Tavern was founded by Englishman John Gadsby in 1796. Besides the restaurant, the former hotel is now converted into a museum which is worth checking out if you have the time.  Sadly it closed at 5 and we just missed it so plan accordingly if you visit.