There's nothing like the fresh air in the Rocky Mountains to stir up a hearty appetite and you'll find no better place satisfy that hunger and fuel the rest of your day than Starvin' Arvin's in Montrose Colorado. Out on the road this place was a godsend serving up hearty fare to satisfy everyone's cravings.  In fact, eating at Starvin' Arvin's  was one of our most memorable breakfasts of all time.
The eggs were farm fresh, and the biscuits were just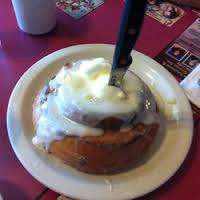 over the top yummy-dense to crumbly perfection.  French toast, waffles, pancakes they have got it all-done the Rocky Mountain way and that means BIG.  And don't even get me started on their cinnamon rolls....heavenly! Among the seven of us we must have sampled half the menu and each item was fantastic.
I am sure lunch is equally good so if you are anywhere near the area and you've got some hungry mouths to feed,  make sure you check it out.  It was a hit with the whole gang, even the picky eaters in the group-and that's saying a lot.
To check out their mouth watering menu, click here.