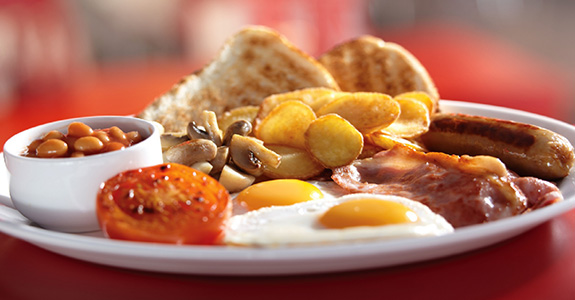 Since we are pretty budget conscious when we travel, most of the time we take advantage of the complimentary breakfast that comes with our hotel. Sometimes our hotel doesn't offer breakfast so we are forced to seek out somewhere tasty to chow down before we head out to our next adventure. Much to our delight we have found some wonderful places that served delicious breakfasts that were truly memorable and we'd like to share that list with you.
1. The Peppermill
(Las Vegas, Nevada) Walking into this place felt like we were in a cross between a diner and a nightclub, just what you expect from a breakfast place in Vegas. The menu is huge and the portions are enormous. The kids could not get over the pancakes which were the size of dinner plates.
---
2. The Friendly Toast
(Portsmouth, New Hampshire) Taking kitschy and weird to a whole new level, this place just explodes with garage sale finds covering every wall and corner. The food combinations are equally eclectic but don't worry, you can still get the standard fare too.
---
3. Eggs and Things
(Honolulu, Hawaii) You better be at this place at 6am if you don't want to wait in line for an hour or more for a table. This insanely popular spot serves breakfast favorites with that Aloha flair-like macadamia pancakes with coconut syrup. How do you say yummy in Hawaiian?
---
4. Starvin' Arvins
(Montrose, Colorado) Talk about a hearty all American breakfast! Something about those eggs, potatoes and fantastic biscuits that were truly unforgettable. If your in the area, don't miss this place! This breakfast will fuel the rest of your day.
---
5. Smitty's Pancake and Steak House
(Idaho Falls, Idaho) The perfect place for all your down home favorites. Sourdough waffles and chili cheese omlettes are only a few of the frontier favorites offered here. They were eager to please even honoring Isaac's request for chocolate chip pancakes.
---
6. Perkins
(Springfield, Illinois) I can't say enough good things about Perkins, but the one thing you can't leave without trying is their pie. I love pie and Perkins' pies are some of the best we've ever tried-even for breakfast.
---
7. The Flying Biscuit
(Atlanta, Georgia) We discovered this gem while searching for the a healthy version of the quintessential southern breakfast. Some of the most heavenly biscuits we've ever tried and they go great with eggs, potatoes and turkey bacon. Yum! The decor will also keep you visually interested until your food arrives.
---
8. The Main Street Over Easy
(Bozeman, Montana) You will love the little chicken sculptures that adorn every one of their tables. Breakfasts are fun and creative, especially for the kids.
---
9. Mother's
(New Orleans, Louisiana) Around since 1938, it's a great place to people watch and take in the authentic southern atmosphere in The Big Easy. Don't forget to try the biscuits and grits and any other local favorites that you've got a hankering to try.
---
10. What's your favorite spot? Let us know your do not miss breakfast restaurant. Email alisa@exploreall50.com with your suggestions and we'll include them in a future post. BTW, we still have to hit Alaska, New York, Pennsylvania, New Jersey, Delaware, Maryland, Virginia and West Virginia so if you've got somewhere we need to try in those states—we want to know about it!