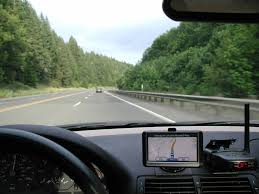 With so much technology out there it can be a little confusing finding the right system to guide you. The days of folding and unfolding those paper maps have now given way to all kinds of electronic gadgetry to get you from point A to point B without getting lost. They can also give you really helpful information about the nearest gas station, restaurants even local attractions. But with so many options to choose from which one is right for you?
Dashboard Navigation-these days more and more cars are coming equipped with navigation built in. Because I have teens that drive and their cars do not have navigation we purchased a Garmin Nuvi (there are other brands out there like TomTom but we are partial to Garmin because after using it for years, I can tell you it's very user friendly and reliable). There are several models to choose from. We picked the basic model, which gives you turn-by-turn navigation instructions. I just love the soothing female voice, in fact we named ours "Betty". If you rent a car that doesn't already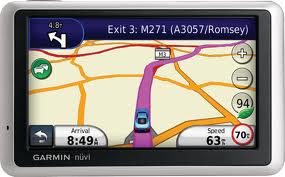 have navigation, you can rent a GPS for somewhere between $10 and $12 per day but for us it just made more economic sense to buy it. After 3 trips it paid for itself. This type of GPS uses satellite signals to find your location and guide you so you are not dependent on cell service. The down side is that if you are in a parking structure it will have a tough time picking up the signal. We've also found that sometimes we've had to search for an address or attraction a couple of different ways before we found it. For example Knights Action Park might not have come up as a nearby attraction but it did come up when we input the address. This can get frustrating if you don't have the address. Best of all the GPS plugs into the car so you never have to worry about running out of battery.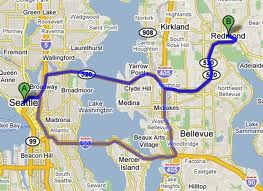 Google Maps on your mobile phone or tablet- Google maps is a great application that you can put on your smartphone or tablet and use as a navigation tool. What I love about it is that it can show you your current location with a pin and then show you the destination you've input with another pin. It will calculate how long it will take to get there and give you turn-by-turn instructions if you ask it too. As you move, the pin will move along the highlighted route showing you where you are and what direction you are going. You can zoom in or out, and add other destination pins on the route as well. What's challenging about using Google Maps is that if you are out of range of a signal or your phone is about to die, you are out of luck (hope you remembered to pack that car charger). If your cellular carrier doesn't have great service in the area you are in, it may also be super challenging to use. The year we got our new Ipad we tried it out on the road in North and South Dakota. Unfortunately because our cell service with AT&T was pretty spotty we couldn't really take advantage of our nifty new gadget.
I think you can't go wrong with either device but what works for us and which I recommend to everyone is to rely on both. Your phone or tablet already has Google Maps on it but I highly recommend investing in a GPS if your car doesn't have one already. This way if your cell service isn't great you've got your "Betty" to show you the way, and if "Betty" can't find the attraction or restaurant you are looking for by name, you can use your phone or tablet to get the address. One way or another you'll be covered and won't get lost in unfamiliar territory.
Sign up for our weekly newsletter for more travel tips, insights and ideas—everything you need to know to plan, pack and go!