One of my biggest motivations for starting The Explore All 50 Project with my kids was to create a family history, one rich with rituals that define who we are giving us a collective sense of identity and purpose. I instinctively knew this was really important for my kids, but I didn't realize just how much, and how important it would come to be in connecting us all together.
Rituals can be defined as "a sequence of activities involving gestures, words, and objects, performed in a sequestered place, and performed according to set sequence." While our road trips are not preformed in a sequestered place or in accordance to a set sequence there are many aspects that would we consider rituals, defining our travel experience as an Explore All 50 Road Trip.
In fact our trips might even be considered rituals themselves. They are something we do on an annual basis, meaning it just wouldn't be summer without an Abecassis road trip to knock some more states off our list.  Here are some of our family's ritual "must do's" and hopefully they will inspire you to come up with some of your own ...
The prep...
1. Special rolling duffles-we've all got
the same bag and we take nothing more than will fit in them. The bags are road trip worn and tested and it just wouldn't be a road trip without them.  We pull these out of the closet about a week prior to our trip to set the mood and get everyone thinking about what they'll be packing.
2. Backpack/fanny pack transfer-No purses allowed. My kids know we are getting ready to hit the road when I empty my purse and pack the essentials into my little fanny pack and my "bible" and electronic gear into the backpack. I have to admit, this ritual really gets me into the mindset of traveling light and moving quickly out on the road. I am always "amped" to pull these things out of the closet because everyone knows we'll be leaving soon.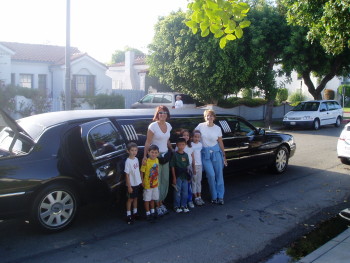 3. Limo ride to the airport-It's become a tradition and I'll admit this is a crazy indulgence but it's a fun way to start out. We relish the luxury of the limo ride because once we hit the tarmac, we morph into true road warriors-no fancy clothes, meals or lodging.
Out on the road
4. Giving our car/van a name - I am not sure how this started but after we named our GPS "Betty" it only seemed right that we give our car had a name too. We've driven a minivan named "Beulah" and SUV we named "Harriet" and a Suburban named "Marvin". The kids love coming up with the names creating a persona for each vehicle. They laugh hysterically as I yell at the car to speed up so we can pass a truck or slowpoke on the highway.
5. Visiting the state capitol buildings - This has evolved into a true ritual on any road trip. I was truly surprised at how much the kids looked forward to seeing the inside, checking out the dome and the rotunda, and hunting for cool historical artifacts. While our visits usually last about twenty minutes or less the kids lead the charge on this "must do" activity.
6. Collecting squish pennies - We've always got to bring some of the road back with us.  My kids have been collecting squish pennies since our very first trip and it wouldn't be a road trip with these wonderful souvenirs jingling in my fanny pack throughout our trek. The ritual includes assigning each kid a pocket in my fanny pack, (and of course I always get confused whose are where).
And then continue at home
6. Displaying our achievement - We've officially knocked the states off our list after my kids and I preform these 3 rituals ... 1. place push pins in the map of the USA marking all the cities we visited, 2. hang the official state photo on our 50 state picture wall, and 3. assemble our trip album with all our road photos printed out for easy viewing and display it on our family room shelf.
These rituals are wonderful things that my kids and I do together, not only creating comfort in consistency but also emphasizing the uniqueness and the definition of our family's experience. Any trip is going to be an awesome experience, but when you create rituals, you truly strengthen the bonds of family and create traditions for your kids to pass down to their own families one day.