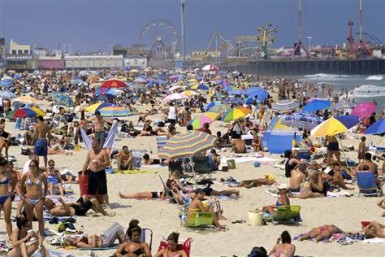 Forget about Jersey Shore the TV show, the kids and I were super excited to check out the beach, rides and restaurants on one of the infamous boardwalks on the Jersey shore.  One of the better known locales is in Seaside Heights.  As we started to make our way down the a huge summer storm unleashed it's fury and didn't let up until late into the evening.  Sadly we had to miss this Jersey hot spot, but if you get the chance to take it all in, here's why you shouldn't miss it...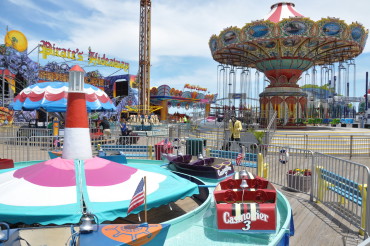 The boardwalk here is one of the busiest at the Shore, thanks to two amusement piers, a water park, wall-to-wall arcades, souvenir shops, informal dining like the Sawmill – think pizza, sausage sandwiches, clams on the half shell – and lively evening entertainment.Just one block west of the beach is where you'll find full-service restaurants including The El Camino for Mexican and the massive Hemingway's for nearly everything else.
In summer, free seaside entertainment includes movies on the beach, concerts and weekly fireworks displays. Sounds like an awesome time to me.....While hurricane Sandy did destroy a big part of this iconic tourist mecca and summer spot, much of it has recently been rebuilt. So make sure you head out with your beach gear and check out the sights, sounds and tastes that you will only find in Jersey!!! And make sure you fist pump Yo!!