So often in our travels we are wowed-mesmerized by stuff that is incredibly fascinating, unique and different, but it's the emotional stuff that always leaves a deeper and more lasting impression on all of us. On every road trip we always seem to encounter something emotionally moving but it was our trip to America's heartland -Nebraska, Kansas, and Oklahoma that left a special mark on us, a place where we were particularly moved by the human spirit-to understand compassion, to feel empathy, and to feel sympathy and solidarity with our fellow Americans.  We saw and felt these things in many of the places we visited but we were especially moved at Boys Town in Omaha, Nebraska, Brown Vs. The Board of Education National Historic Site of Topeka National Park, in Topeka, Kansas and the Oklahoma City National Memorial in Oklahoma City Oklahoma.  Just thinking back on our visit chokes me up a bit emotionally still, so here is why these three places are a compelling reason to visit America's heartland.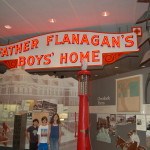 Boys Town Omaha, Nebraska-Dedication to Helping Others Less Fortunate
Boys Town is a home for wayward youth, founded in 1917 by Father Flanagan who dedicated his life to transforming boys who were abandoned by their families during difficult economic times from street hoodlums to productive member of society.  Seeing the amazing displays in the visitor center taught us about selflessness and how many lives were improved by one person's devotion to helping others in unfortunate circumstances. Truly heartwarming and inspirational and a great lesson in appreciating all that we have-our families, our homes and our lives.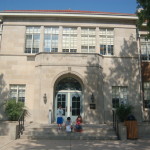 Brown vs. The Board of Education National Historic Site Topeka, Kansas-Empathy For Those In The Struggle For Civil Rights
We have had the opportunity to visit many sites relating to the struggle for civil rights but nowhere have we been more moved than the schoolhouse at the Brown vs. The Board of Education National Historic site.  This place has some of the best and most engaging multi-media interactive exhibits we've ever seen.  Each of us left with a new found understanding and empathy for those who struggled and fought to be treated equally under the law.  This should probably be in Washington DC so more folks can experience and learn the important lessons it seeks to teach, but since it's not, I will tell you it's worth a trip to Topeka just to experience it.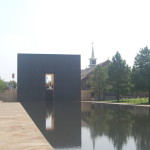 The Oklahoma City National Memorial Oklahoma City, Oklahoma
-Sympathy and Solidarity
The Oklahoma City National Memorial outstanding memorial that left us pondering the senseless act of violence and misguided political "statement" that tragically cut short so many innocent lives. It was hard enough to comprehend the devastation and loss of life, it was harder still to explain to the children what we were seeing. The empty chairs-one for each person who lost their life-broke our hearts thinking about the family and loved ones they left behind.  Though we had no connection to any of the victims, we stood there as fellow Americans, in solidarity with those suffered such a tragic loss and we offered our condolences as we looked out from one end of the memorial to the other.
People don't often think about traveling through America's heartland, but those who embark on the journey are richly rewarded by being moved in ways seldom seen in the rest of the country.  I truly hope you are inspired to travel through the heart of America for if you do, the journey will take you deep into your own heart as well.