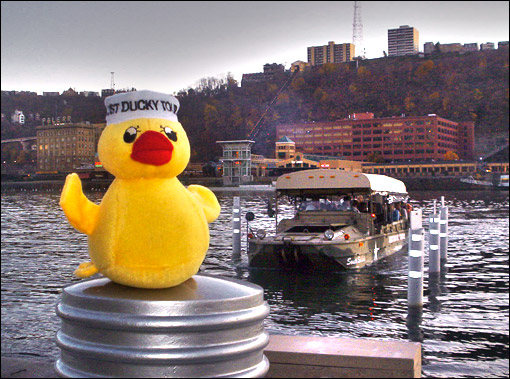 Sometimes it's hard to to explore a big city that doesn't have a huge amount of obvious "tourist" type of attractions.  Such was the case for us in Pittsburgh.  I would have loved to understand more about the city's history especially it's role in the industrial revolution and it's connection to Andrew Carnegie and his big steel mills. Sometimes even after doing all your research, you can still miss something that would tie it all together and that's exactly how we missed the Just Ducky Tours.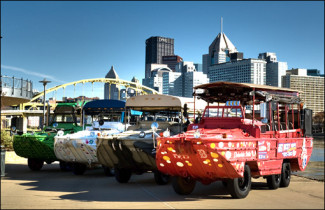 After having lunch at Primanti Brothers, touring the Heinz history center and the Andy Warhol Museum, I still didn't feel like we tapped into the soul of Pittsburgh. Heading back to our hotel I saw one of the Just Ducky vehicles crossing the bridge.  I immediately tried to use my phone to access their website to book a tour but alas it was too late.  The last tour for the day had already left.  So dear readers, I am adding this listing here to help you should you be researching a trip to Pittsburgh to book a tour.
Just Ducky uses repurposed amphibian WWII army vehicles (they drive on the streets and then they drive right into the river and become a boat...so cool!) to take you all around the city with an entertaining tour guide who will give you all the history while passing by the sites.  I so wish we'd done this! I know we would have learned so much about the "Steel City" which sits on three rivers with 446 bridges.  Tours last an hour and cost $22 for adults and $15 for kids 3-12. If you are exploring Pittsburgh, I think this is a just "ducky" way to see to explore the city.