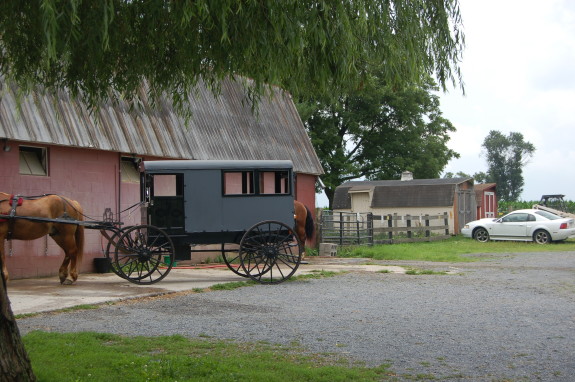 So I have to admit when we arrived in Intercourse and then Bird In Hand which are towns next to each other in Pennsylvania Dutch Country my kids were really taken aback to see real buggies on the road with Amish folks, sometimes younger kids "driving". Of course they'd seen photos and stuff on television but somehow it was quite different seeing them in person going about their daily lives.  I think my kids were slightly embarrassed to be gawking -afraid to make eye contact and getting caught in the act. Me on the other hand, I just loved soaking it all in. Just another sign of the wonderful diversity of our amazing country.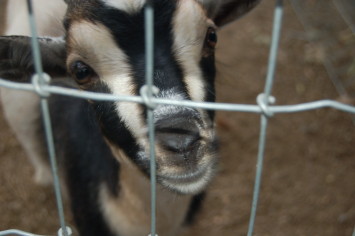 While my kids weren't particularly interested in shopping checking out the Amish crafts for sale they were keen to take a buggy ride tour and I have to say it was a great experience and very educational. We'd heard great things about Abe's Buggy Rides so we headed on over. There were lots of buggies and a host of interesting barn animals. A young Amish "man" of about 14 if I had to guess took all our info and then ran our credit card-which I though was really odd since I thought they were very anti modern conveniences. We waited around checking out the animals and then met our guide and hopped in our ride.
Our guide was Mennonite man name Jan (pronounced Yan). As we started clip clopping along the road he explained some of the more subtle differences between the Mennonite and the Amish.  Both are deeply religious and we were surprised to hear him speak with an accent which he explained is Dutch. Well, I guess we're in Pennsylvania Dutch Country, right??
After crossing the main road and heading out to the farm country, Jan pointed out the Amish homes by their tell tale green shades. He explained that the Amish shun electricity opting for kerosene instead. Sadly, he really couldn't explain the how's and why's of what they believe and it was a little confusing. They won't drive, but they might ride in someone else's car because it uses gasoline which some of them shun and some don't. As we were riding along we passed an Amish man running a gasoline powered lawnmower.  We gave Jan a puzzled look and he just shrugged unable to explain.
It was so peaceful driving around on the country roads. As we trod along listening to the clip clop of the horses hooves I realized at the end of the day we share some common beliefs like the importance of family and traditions. It was then that I looked out the window and saw 5 pairs of jeans hanging on the clothesline and it all made sense.  The difference is the Amish choose to shun the modern world to preserve their family values. And as we headed on back I thought...To each his own.