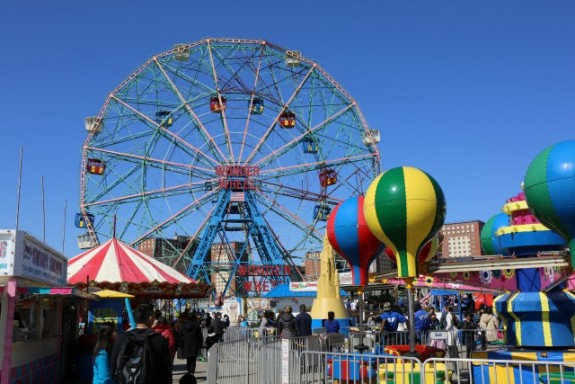 A visit to Brooklyn is not complete without at stop at Coney Island on the shore near Brighton Beach. Walk up to the ticket booth for The Luna Park amusement park amid the brightly colored rides and instantly you are 7 years old pulling on your parent sleeve begging to go explore. Don't expect much in comparison to a new theme park though. It's a place of nostalgia that hearkens back to simpler times.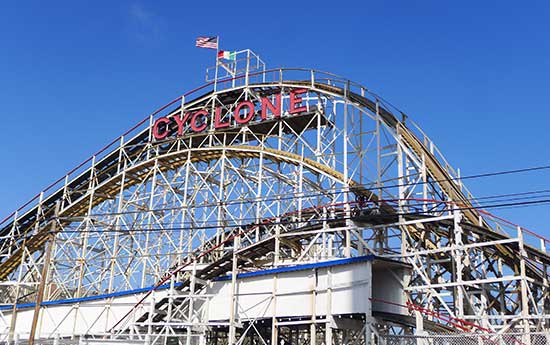 Our main reason for visiting was a ride on the historic Cyclone, the storied wooden rollercoaster that first opened in 1927 and is currently listed on the National Register of historic Places.  Buckle your seatbelt because a ride on this monster is $9 per person....but it's totally worth it to experience "The mother of American roller coaster culture" in all her glory. We went on it twice and all I can tell you is my crew thought it was totally worth it.  According to the Luna Park website "Get ready to shake, rattle, rumble and roll over 2,640 feet of track featuring 12 drops and 27 elevation changes that still has the stuff to take your breath away. Slowly rise to panoramic heights and grip the bar tight as you go over the ledge on an exhilarating 85-foot, 60-degree plunge at speeds of 60 mph". It was all that and more. I am NOT a roller coaster person but there was no way I was not going on this thing.  I kept saying to myself, "it's built in 1927, how scary can it be"....Holy #$%@&*, it took a good thirty minutes to get my stomach out of my shoes, but it was definitely a good time.
Make sure you check out the original Nathan's for those famous hot dogs and fries and all the other kooky stuff stuff at the Luna Park. During the summer they have a fireworks show and I am just kicking myself that we didn't follow our original plan with Larry and head over there after Peter Lugers.