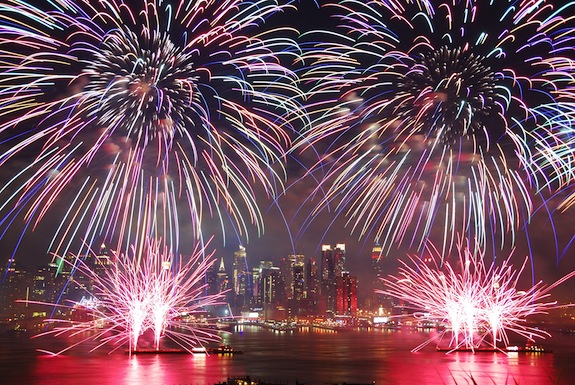 What are your plans for the 4th of July? Why not consider a road trip that takes you somewhere totally amazing for the 4th?
Over the course of our road trip adventures we've sort of made it a point to be somewhere fun and festive for the 4th of July when it works out schedule-wise and it's made for some spectacular memories.
On our North and South Dakota adventure, we ended up in Medora on the 4th of July for a show and fireworks spectacular the made us feel so patriotic  The show highlighted Teddy Roosevelt (my favorite President) as Medora is located on what was once his ranch that was near and dear to his heart. Out under the stars in the open air amphitheater we sang songs and watched colors explode in the night sky.
When we explored New England, we made a point of being in Boston Harbor for the festivities. Sadly it was right after the Boston Marathon bombing, and the city's resilience and strength echoed throughout the celebration. We felt the brotherhood of community as we all stood together as Americans, proud of our freedom and defiant knowing no terrorist act could take it away.  We listened to the legendary Boston pops as the night sky lit up.  I was awestruck as all I could think about was being in the same place, celebrating the freedom that brave men and women fought for over 200 years ago starting with their rebellion tossing the tea into the very same harbor.
Last year, we had the great pleasure of sitting on a boat on the East river beside the Brooklyn Bridge singing along to patriotic tunes all the while watching the Empire State Building aglow in an amazing light show. We watching the fire boats on the river shoot their water canons and as the sun sank completely the night sky lit up with the Macy's fireworks display that is one of the most lavish in the entire country. At that moment, with my kids around me, I felt so blessed and grateful to be an American.
The country is filled with amazing places to take in 4th of July festivities.  If you get the opportunity, make sure you get a chance to experience it somewhere truly special.  Not only will it be an event to be remembered, it will reconnect you to the heart of what it means to be an American.