Who doesn't love a tasty treat?  Food is a super way to learn about different regions and cultures and it's one of my best ways of keeping everyone interested and engaged in whatever we're exploring.  When I mention tasting or sampling everyone's ears perk up, but it takes on a whole new level when it's something sweet! There's nothing like sugar to lift everyone's spirits and get everyone chatting and making nice.  I am always on the lookout for interesting, unusual and tasty treats for us to try out on the road to connect us to wherever we're going.  Here's a list of our most memorable. which I encourage you to try in your travels if you haven't already. Bon Appetite! Got any other regional faves-let me know, we are always on the lookout for sweet original treats!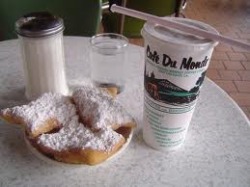 1. Beignet-A great way to connect to the French culture in New Orleans and the surrounding areas. Kind of the equivalent of a square doughnut, think fried biscuit dough sprinkled with powdered sugar. The best of the best can be found at Cafe Du Monde in the French Quarter.  I liken it to a religious pilgrimage-you must go here at least once!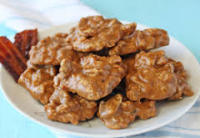 2. Pralines-Another regional southern treat that can be found all over Louisiana, Mississippi, Alabama and Georgia.  Though it can kind of look like a cookie, it's definitely more of the candy variety. Think butter, sugar, and nuts (usually pecans) melted and cooked together and then left to cool and crisp up for a super sweet nutty treat.  I found these treats a little too sweet for my personal taste but they are mighty popular and if you are anywhere in the south you've just got to try some.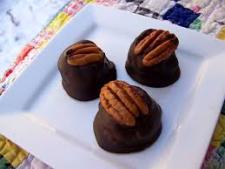 3. Bourbon Balls-Moving a little further north we discovered this Kentucky treat that celebrates the state's history and culture of distilling Bourbon. You can find variation of these treats all over the state but our faves are at the Rebecca Ruth Candy Shop in Frankfort, Kentucky.  Also known as "Kentucky Colonels", these delectable sweets are made with real Bourbon giving them unique character and flavor that are irresistible (I bought a second box to send home, and let's just say it didn't last a day.)   If you get a chance, take the factory tour to learn about the history of this sinfully good confection.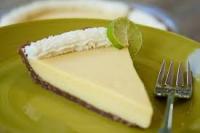 4. Key Lime Pie-A true Florida original.  If you find yourself in The Sunshine State, you have just got to sample this tart and tangy treat that proud Floridians call their own. Made with the juice of Key Limes, a crop made famous in the Florida keys, this dessert is wildly popular all over the state.  The creamy yet tart filling (which is sometimes a light green or yellow in color) sits in a graham cracker pie crust.  Just thinking about it takes me back to that refreshing cool taste which is the perfect compliment to the warm Florida sun.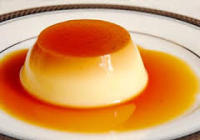 5. Flan (also known as Cream Caramel)-Another Florida treat that has deep roots in the Cuban, Dominican and Puerto Rican communities that make Florida their home. Creamy caramel custard swims in a caramelized sugar bath. There are many variations with varying levels of creaminess and added flavors but we're purists who like the original version served at our fave at Larios in Miami Beach. Creamy, caramel perfection!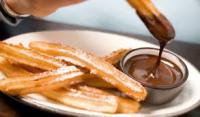 6. Churros-Also along the lines of a fried doughnut, is the churro a southwestern treat most likely brought over by the Spanish explorers and later by the Mexican inhabitants of the southwest.  We loved sampling these in New Mexico and Arizona as part of our connection to the local culture. A thick biscuit like dough is squeezed through a shaper creating tons of ridges  which is then dropped into hot oil and fried a nice crispy brown.  It is then coated in cinnamon sugar. These have become so popular you can even find them at amusement parks, but they are never as good as made fresh in an authentic restaurant like the La Placita Dining Room in Albuquerque.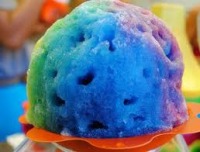 7. Shave Ice-This Hawaiian favorite is definitely not to be confused with a sno-cone. A block of ice is shaved into feathery snow which is then packed into a cup and then doused with an array of brightly colored flavors that taste as bright as the colors themselves.  We especially loved the truly Hawaiian flavors like "lillikoi" also known as passion fruit.  So tasty and refreshing and original.  If you find yourself on the island of Maui, make your way to Ululani's, the best we tried on any of the islands.
8.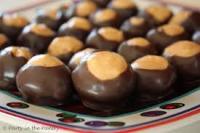 Buckeye-I had no idea what a buckeye was till we visited Ohio. A Buckeye can mean a resident of Ohio but it is also a regional treat made to look like a real buckeye which is nut like seed from the horse chestnut tree which you don't want to eat, it's toxic. A buckeye candy is a ball of sweetened peanut butter covered in chocolate except for a small circle. We tasted one of these treats at the Ohio state capitol building in  Columbus but you can find them all over the Buckeye state.  Sort of like a Reese's peanut butter cup, but a little sweeter.